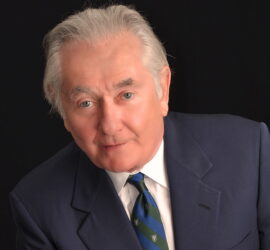 I attended Tulane Medical School on scholarship and became an honor society student. After an internship in Philadelphia, I volunteered for the Navy Medical Corps and was billeted with the Marines. Then surgical fellowships at Mayo and Ochsner Clinics and residency at Tulane followed. I earned a Ph.D. in cell biology, studying how cancer cells multiply and how heart muscle energizes.
I was a faculty member at Tulane and the Baylor College of Medicine under Dr. Michael DeBakey during the golden age of cardiovascular surgery. Retirement took place at the University of Missouri, where I was distinguished professor and Hugh Stevenson Chair of Surgery. Four books and over 400 other publications have resulted during my career – listed below. After 50 years, I was named Tulane Medical School's Alumnus of the year.
My greatest credential, allowing me to advise you properly, came from the experience that I became a patient after retirement.
Publications
Dr. Jim has authored, co-authored, and edited four books.  His latest work is currently available – "Live Better While You Age" Tips and Tools for a Healthier, Longer Life,  at most bookstores.  In addition, he has another book in pre-publishing status.  Dr. Jim produced over 400 medical, peer-reviewed articles and chapters throughout his career.  He continues to contribute to medical journals, present at conferences, and give talks to groups and the public concerning Living a Better Life.
1.  McCullough LB, Jones JW, Brody BA, editors: Surgical Ethics. Oxford University Press 1998
2.  Bondeson B, Jones JW. The Ethics of Managed Care: Professional Responsibility and Personal Integrity. Kluwer Academic Publishers 2002
3.   Jones JW, McCullough LB, Richman BW. The Ethics of Surgical Practice: Cases, Dilemmas, and Resolutions. Oxford University Press, 2008
4.  James W. Jones,  Live Better While You Age – Tips and Tools for a Healthier, Longer Life. Rowman & Littlefield, 2017